Zooming into the analytics
Start-up fundraising events and deals have increased in October. Compared to that of September where 321 start-ups received funding, there has been an increase of 41 start-ups receiving funds in October, raising it to 362.  
This report is made according to data collected and analysed from the Skopai platform.
To see the full list of start-ups fundraising this October, click on the link: 
The word cloud represents the markets and technologies of start-ups fundraising in this month. Tags such as Software, Fintech, Platform and AI appear dominant giving us insight into which markets saw a lot of activities.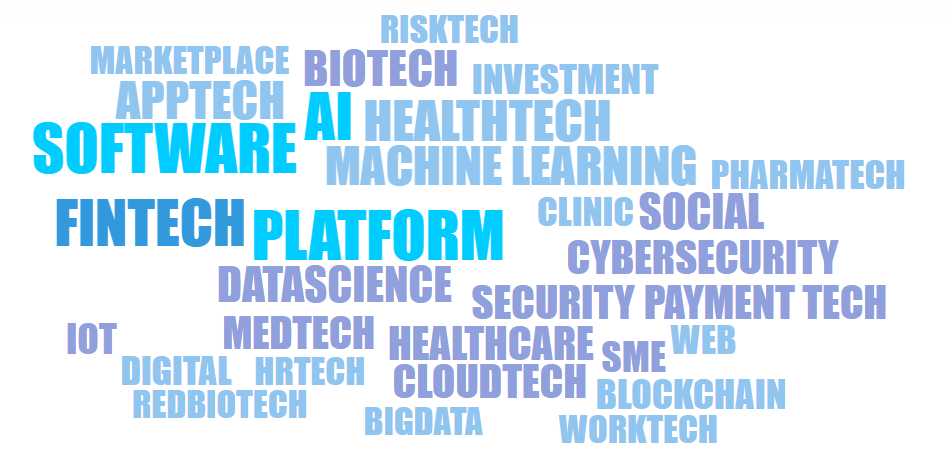 According to the 362 start-ups that received funding in October 2022, the US is the country with the most start-ups followed by UK, France, Switzerland, Canada, Israel, India, Germany, Singapore and Belgium.
Comparing these stats with that of September's, countries like Finland, Ireland, and Norway, have been replaced by Canada, Belgium, and Singapore.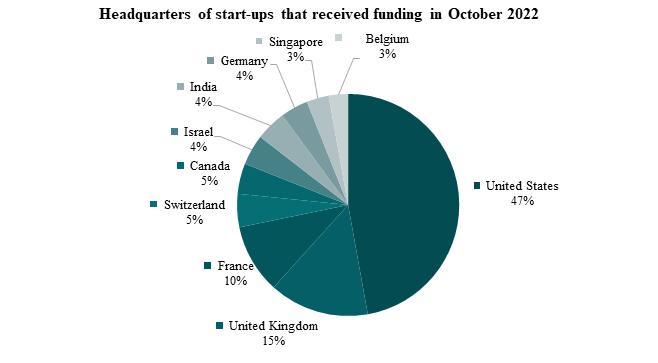 By their maturity, most start-ups are on the go-to-market stage, followed by early-stage ventures. The go-to-market stage has always been an attractive stage for investors since the product is ready for commercialization after the research and development process. Furthermore, 130 funded start-ups have patents.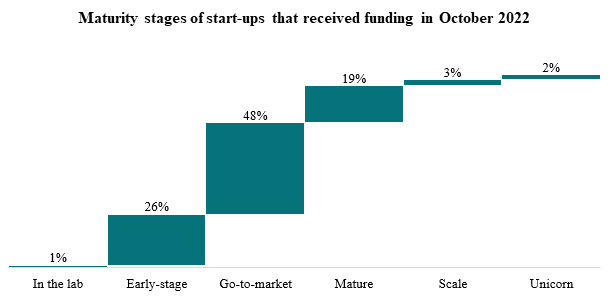 Funding rounds in October 2022
Per data analysed on the Skopai platform, start-ups received funding across different funding rounds ranging from Pre-seed to Series F rounds.

📌 Note that all amounts are quoted in Euros on the Skopai platform for comparison reasons.
Pre-seed
Buddywise: This Swedish start-up founded in 2020 develops a platform that enables real-time safety monitoring through computer vision. Its aim is to make dangerous industry environments safer and save time on monitoring safety risks. It raised €1.2M in a pre-seed round and intends to use the investment to accelerate its commercial expansion, product development, and recruitment of top talents in sales and engineering.
Lune: Lune develops a platform designed for helping banks and companies extract valuable financial insights and indicators from their customers' spending patterns. It converts raw customer payment and transaction data into data points using AI technology. The UAE-based data start-up founded in 2020 raised €871.97K in a pre-seed round and intends to use the funds to scale across the entire GCC by the end of the year.
Seed round
Relay: The San Francisco, CA-based start-up provides team collaboration tools and helps leaders run their teams by establishing the right workflows, running them on time, and automating tedious coordination. It raised €5.13M in seed funding and will use the funds to accelerate its development efforts.
TYXIT: At the go to market stage and ready to launch its solution to the world, the Swiss start-up develops an ultra-low latency platform designed for musicians and gamers to connect and collaborate. Having raised €2.09M, the seed will be used to speed up its market entry.
Series A
Gourmey : The French early-stage start-up develops foie gras designed for accelerating the world's transition toward humane, sustainable, and healthy meat by harvesting it from animal cells. It matures stem cells in bioreactors with the right nutrients at the right temperature so that it becomes synthetic foie gras. Having secured €49.24M, the start-up wants to use the fund to move from research and development to commercialization.
Sibylla Biotech: Is an Italian start-up that develops Early Drug Discovery method designed for application to the research and design of new drugs, effective against diseases so far incurable. It successfully closed €23.59M in a series A funding round and wants to use the funds to advance protein degradation by folding interference pipeline and expand technology platform.
Stardust: Stardust is a web3 game creation platform that allows developers to build virtual games on blockchain platforms like Solana and Polygon. The US-based start-up secured an investment of €30.78M in a series A funding and intends to use the fund to add more games to its platform.
Series B
Homa Games: This French start-up develops a platform designed for creating and publishing mobile games. Its technology is to empower game developers across the world by offering a full stack of developer tools, data insights, and revenue generation, increasing efficiency through every step of the app production and publishing cycle. The €102.59M raised in a series B round will support Homa in scaling the business through investments in tech and data products, tapping into a global talent pool, executing on new partnerships, and doing strategic acquisitions.
Sepio: Is a US-based start-up that develops cybersecurity solutions designed for protecting organizations against malicious hardware device attacks. The €22.57M fund secured will allow Sepio to invest in its product and in sales.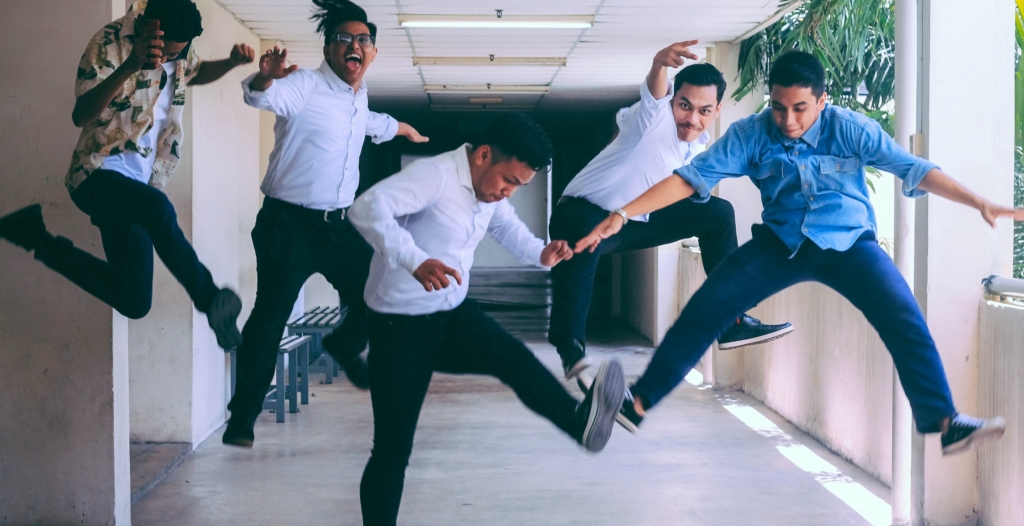 Series C
Crisp: Is a Dutch online-only supermarket that prioritises ultra-fresh food. It raised €75M in a series C funding round and intends to use the fund to increase production.
Factorial: Is a Spain-based start-up providing HR software solutions. After raising $123.1M in Series C funding round, it intends to use the funds to expand and improve its functionalities and strengthen itself in the existing markets and expand into new markets worldwide.
Series D
Tally: Is a financial automation company that helps members in paying off their credit card debt. The US-based start-up will use this fresh capital of €82.07M to continue to grow the business and further expand its automated debt pay-down system to help members get out of credit card debt, reducing the time and stress it takes people to reach their financial goals.
Univercells: Is a Belgian start-up providing innovative and cost-effective biomanufacturing solutions. Having raised €44M in a Series D round, it intends to use the capital to support the development of its Quantoom Biosciences' RNA platform, commercial expansion of Exothera's Jumet-based infrastructure, and the global growth of the Univercells Group.
Series E
Airwallex: Australian fintech start-up Airwallex, provides cross-border banking and other financial services for businesses. Having raised €102.59M in a Series E round, it will be using the capital to continue expanding its business operationally, geographically and with new products in areas like credit and expense management — and for M&A.
Form Energy: Is a US-based company that develops energy storage systems designed for enabling a reliable and fully renewable electric grid year-round. The capital of €461.63M acquired in a Series E funding will accelerate the company's ability to responsibly build a globally competitive U.S. battery manufacturing supply chain and advance American innovation.
Series F
ShopBack: The Singaporean company develops a rewards platform that offers loyalty programs to help retailers increase their best-value shopping experience. Having raised $80M in an earlier series F round in July, this month extended series F round of $80M round brings to a total of $160M. The raise will provide the Group with additional capital in its bid to build the leading shopping and rewards platform across the Asia Pacific region.
To see the full list of start-ups that received funding this October, click on the link:
***
Make more analysis using the events view tab to keep up with the funding activities of your favourite start-ups on the Skopai platform. You can also book a demo with our experts now to discover the Skopai platform.