All the highs in September
Fundraising news in September has been jaw-dropping! Adobe acquiring Figma for approximately $20 billion in cash and stock is one of the major funding and acquisitions that has happened this year. Although times are still quiet and businesses continue to adjust to the realities of the current economic environment, such funding news are bright spots in times like these.
Israeli start-ups raised $800 million this month. The biggest funding rounds completed were led by cloud optimization company Zesty, which raised $75 million. Cybersecurity startup Cymulate raised $70 million, cybersecurity company Deep Instinct raised $62 million.
French start-up, Bump which was founded just last year received €180M. Talk about a path travelled in such a short time! Can we say the tides are not so bad after all?
The latest report using data from the Skopai platform records 321 start-ups that received funding in September 2022 as supposed to 254 start-ups was recorded in July.
The word cloud represents the markets and technologies of start-ups that received funding in this month. Tags such as Platform, Software and AI appear dominant giving us insight into which markets saw a lot of activities.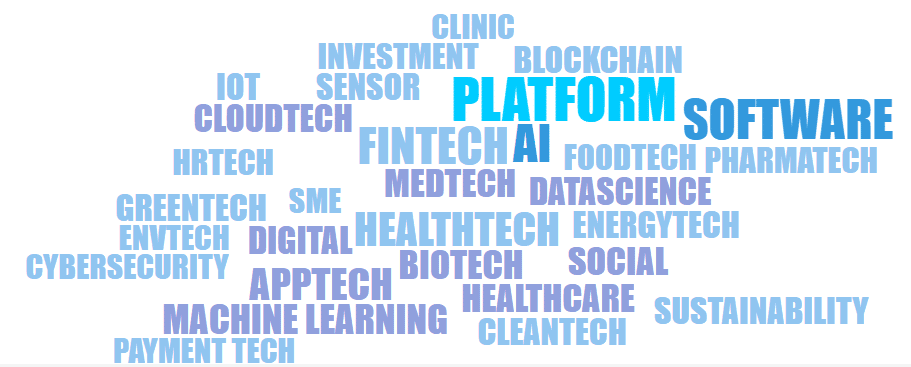 According to the 321 start-ups that received funding in September 2022, the US is the country with the most start-ups followed by France, UK, Germany, Isreal, India, Switzerland, Finland, Ireland and Norway.
Comparing these stats with that of July's, countries like Spain and Singapore have been replaced by Norway and Switzerland.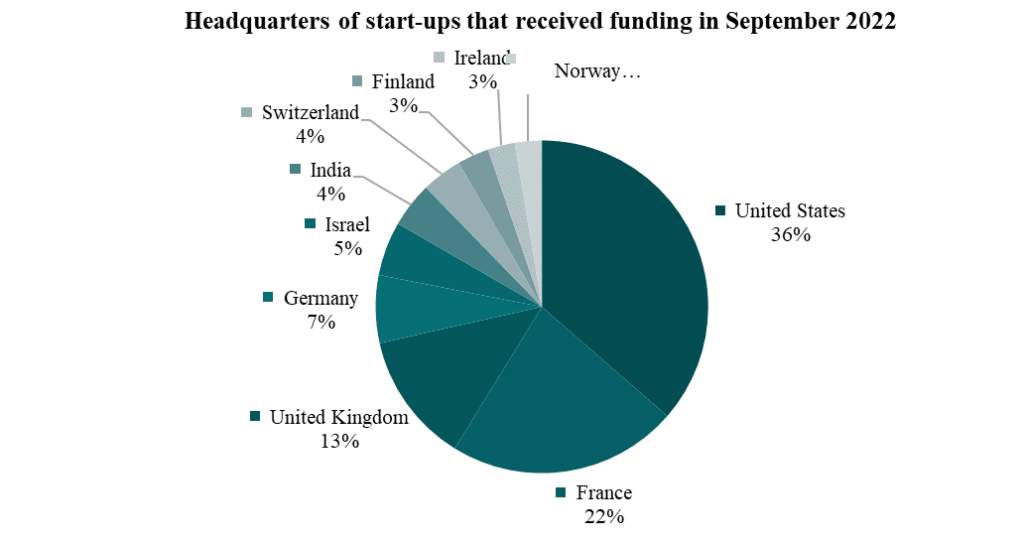 By their maturity, most start-ups are on the go-to-market stage, followed by early-stage ventures. The go-to-market stage has always been an attractive stage for investors since the product is ready for commercialization after the research and development process. Furthermore, 102 funded start-ups have patents.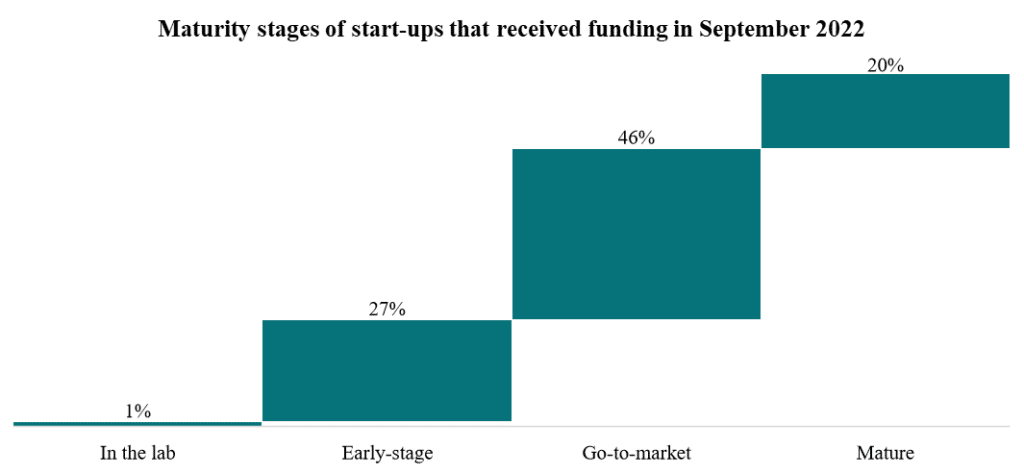 Funding rounds in September 2022
Per data analysed on the Skopai platform, start-ups received funding across different funding rounds ranging from Pre-seed to Series D rounds.
Pre- seed round
Bitmama: Is a Nigerian blockchain payment start-up working to democratize Africa's highly fragmented payment system by leveraging blockchain-based solutions. It raised $2M in a pre-seed funding round and intends to use this seed to expand its operational presence, strengthen its team, consolidate its product offerings, and plot market penetration across Africa while rapidly scaling new use cases for cryptocurrency within the continent.
Nutropy: Is a French start-up that produces real milk ingredients, identical to those produced by cows, to develop premium cheese alternatives that taste just as good as cow's cheese but are more sustainable, healthier and animal free. Nutropy raised €2M to expand into the international cheese market, which is worth $200B and growing.
Seed round
Nanoligent: Is a Spanish biotech start-up specialized in the development of cancer treatments based on unique protein conjugates. It secured a seed funding of €2.8M and plans to use this fund to foster the development of multiple drug candidates and advance the pre-clinical development of its lead candidate in a variety of tumor types.
Steadybit: Is a German-based start-up that has a platform built to manage the nature of multi-cloud environments, multi-region application architecture, and the numerous microservices running inside of containers and Kubernetes. Having raised $7.8M in Seed funding the company intends to use the funds to accelerate growth and expand operations.
Round A
Mycel: Is a Korean start-up that makes fungal-based biomaterials that can replace leather and provide protein substitutes. The new funding of $10M will be used to open a production plant in South Korea for scaling the manufacture of its fungal-based biomaterials and double its employee headcount.
Morpheus Space: Is a German-based start-up which produces a modular, electric propulsion system for small satellites. It raised $28M in a round A funding this September and intends to use the fund to ramp up production of its propulsion systems, build a factory in Dresden, Germany, and increase headcount.
Round B
Morse Micro: Is an Australian fabless semiconductor company reinventing Wi-Fi for the Internet of Things (IoT). Having raised $140M in a series B funding round, it intends to use the capital to revolutionize their digital future by achieving unprecedented scale and demand for its Wi-Fi HaLow technology.
Skyroot Aerospace: Is an Indian start-up which develops launch vehicles destined to hurl small satellites into space. Its flagship line of products is the Vikram series. It secured a funding of $50M in a series B round making this its second round of funding this year.
Round C
Carbyne: Is an Israeli start-up that develops a cloud-native emergency call management platform used by emergency services to handle calls for medical, transportation, public safety and other urgent needs. Having received $56 million in a series C round, the company will use the investment to continue growing its platform for more efficiency during emergencies. It will also accelerate the digital transformation of mission-critical operations and government service centers, primarily in the US.
Fortanix: Is a cybersecurity start-up based in the US.It provides an integrated data security with encryption, multicloud key management, tokenization, and other capabilities across cloud and on-premises environments. It secured $90M in a Series C round and intends to use the capital to expand sales and marketing operations and open new offices in Eindhoven, the Netherlands.
Round D
Innovafeed: The French start-up is the producer of insects for animal nutrition. With this new investment of $250M, it intends to further expand existing capacity, accelerate international expansion and support research and development.
Verkada: Is a US based start-up that develops video security cameras, door-based access control, environmental sensors, alarms and visitor management designed for providing unparalleled visibility through a single secure cloud-based software platform. It raised $205M in a series D funding. The new round brings its valuation to $3.2B, and will accelerate investment into new and existing product lines, hiring across all functions, and geographic expansion.
***
Make more analysis using the events view tab to keep up with the funding activities of your favourite start-ups on the Skopai platform. You can also book a demo with our experts now to discover the Skopai platform.