Brutal first quarter for start-up fundraising
After a record-breaking venture boom in 2021 where fundraising reached almost $1.2 trillion, we expected 2022 to keep up the momentum and perhaps shatter the records of 2021. Unfortunately, that hasn't been the case.
A new set of risks experienced in the first quarter of the year including geopolitical factors, supply chain and labour challenges as well as the crypto slump have affected world economies and financial markets which have led to a slowdown in fundraising this year.
Nevertheless, some start-ups succeeded in receiving funds from various funding rounds. The latest reports using data from the Skopai platform record start-ups that received funding in July.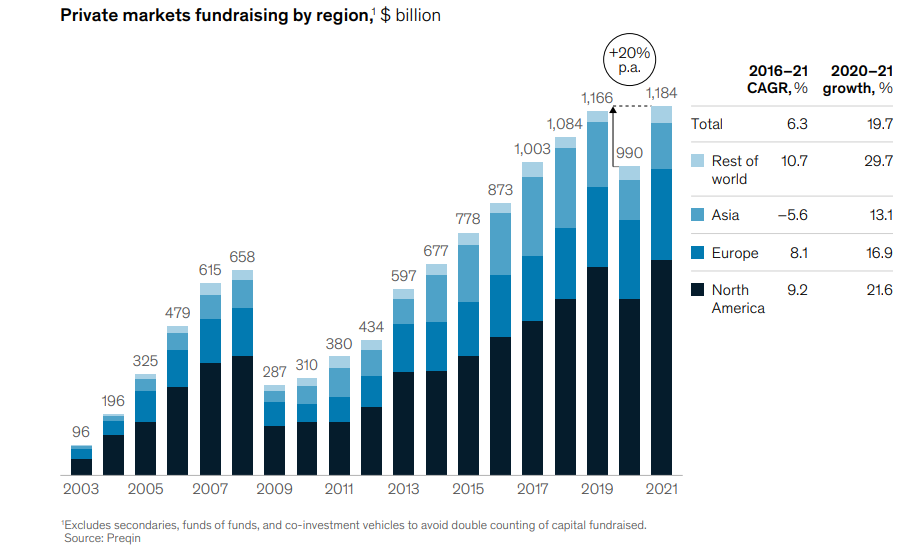 According to Skopai's data, 254 start-ups received funding in July 2022 with the US representing the country with the most start-ups followed by UK, France, Israel, Germany, India, Spain, Netherlands, Ireland, and Singapore.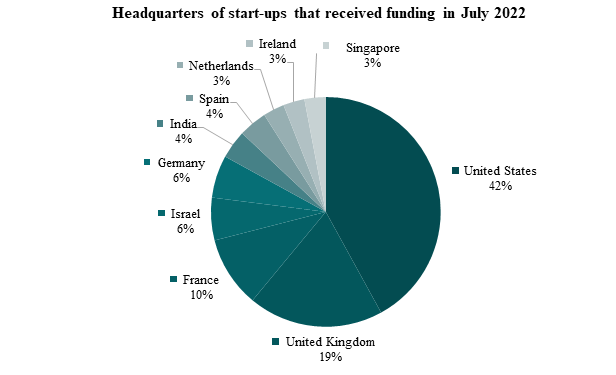 By their maturity, most start-ups are on the go-to-market stage, followed by early-stage ventures. The go-to-market stage is attractive for investors since the product is ready for commercialization after the research and development process.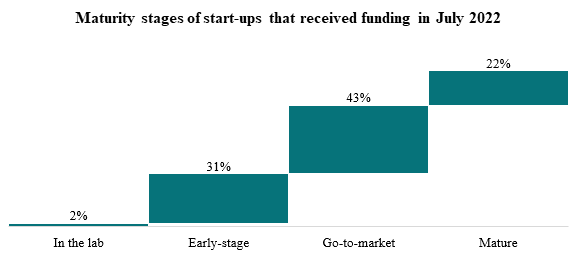 In terms of markets and technologies, most start-ups that were funded in July 2022 develop platform and software solutions in the sectors such as fintech, healthtech, medtech, biotech, as well as retail, edtech, cybersecurity, and other sectors.
The technologies based on AI, machine learning, cloud computing, robotics, and IoT are among the dominant technologies developed by the start-ups.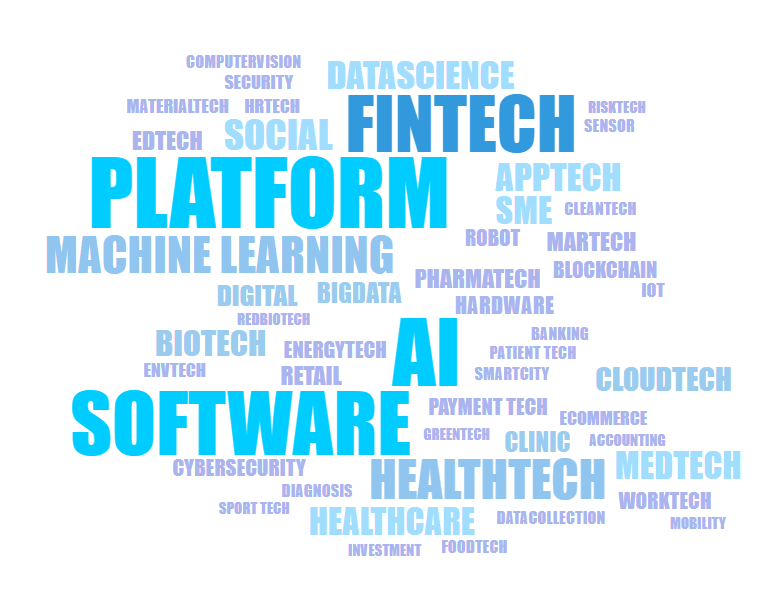 Funding rounds in July 2022
Per data analysed on the Skopai platform, start-ups received funding across different funding rounds ranging from Pre-seed to Series F rounds.
Pre-seed round
Bitskout: Is an Estonian-based early-stage start-up that has developed a software platform that allows users to create AI-powered plugins and add them to their SaaS tools without involving IT or software teams to automate admin work.
It raised a €500K pre-seed round led by SMOK, a US venture capital fund with a focus on early-stage start-ups in CEE (Central and Eastern Europe).
BosonQ Psi: Is an Indian-based early-stage start-up that has developed a Quantum-powered cloud simulation software targeted at corporates dealing with quantum computing. They raised $525K in a pre-seed funding round led by 3to1 Capital.
In a LinkedIn post, the start-up shared that the fund would enable them to accelerate the development of their Q-SaaS software – BQPhy™, propel customer traction globally and strengthen their team across tech, sales, and marketing.
Seed round
Cloudprinter.com: Is a Ukrainian and Dutch-based global print API platform providing e-commerce solutions, retail and 3Dprinting. It secured €7M in a Seed round of funding led by Capital Mills. The company intends to use the funds to expand its sales and product teams and sustain its 300 per cent growth rate from 2021 to 2022.
Resolve: Is a US start-up that provides a healthcare system that fights medical debt. It aims to make healthcare bills fair. It raised $3.3M in Seed funding led by AlleyCorp. It intends to use the funds to grow operations and expand its business reach.
Round A
ForSight Robotics: Is an Israeli early-stage start-up that has developed a full robotic cataract surgery procedure. It raised $55M in a series A funding round led by The Adani Group. With the new funding, they hope to push the ORYOM platform for further development for clinical trials
Kardinal: Is a French start-up developing route optimization solution. It secured an investment of €10M in a series A funding led by Benhamou Global Ventures and intends to use the funding to double its workforce and expand to new European geographies.
Round B
Delfi Diagnostics: Is a US start-up at the Go-to-Market stage that has developed high-performance, accessible liquid biopsy tests for early cancer detection and monitoring. It raised $225M in a series B funding led by DFJ Growth.
The company intends to use the funds for the continued development and commercialization of high-quality and accessible blood tests for single cancer early detection, multi-cancer early detection, and treatment monitoring.
Merlin Labs: Is a go-to-stage US-based start-up developing an autonomous flight system designed to be installed in existing aircraft to increase pilot safety and operational flexibility. It raised $105M in a series B funding co-led by Snowpoint and Baillie Gifford.
The company says it intends to use the fund to expand testing, build a New Zealand–based Part 135 freight capability, and grow its 70-person headcount across the U.S. and New Zealand.
Round C
May Mobility: Is a US-based start-up that develops a range of autonomous vehicles and mobility services. It aims for fully autonomous shuttles by 2023. They received $111M in series C funding and intend to use the fund to accelerate the advancement & development of their autonomous vehicle (AV) technology.
Aurora Labs: Is an Israeli-based start-up that developed automotive software fixes and predictive maintenance for connected vehicles. It secured $63M in series C funding led by Moore Strategic Ventures.
Round D
Whatnot: Is a US-based start-up that develops a live-streaming platform and a marketplace designed for collectors and enthusiasts to connect with their community to buy and sell verified products. It raised $3.7B in a series D funding round that was co-led by DST Global and returning investor CapitalG, Alphabet's independent growth fund.
The fresh capital will help them to continue developing its in-app live and social commerce marketplace and roll out additional categories for collectors, including diecast cars, stamps and action figures.
Flexe: Is a platform providing integrated, flexible, omnichannel logistics programs for enterprises. Flexe attained unicorn status through its recent series D fundraising where they secured $119M to join Seattle's unicorn club.
Round F
Coalition: Is US-based start-up focused on cyber insurance and risk management. It received late-stage funding of $250M led by German financial services giant Allianz. The company intends to use the funding to push beyond North America and into the UK by the end of 2022 as well as cover additional executive risk segments such as crime and fiduciary coverage.
***
Make more analysis using the events view tab to keep up with the funding activities of your favourite start-ups on the Skopai platform. You can also book a demo with our experts now to discover the Skopai platform.