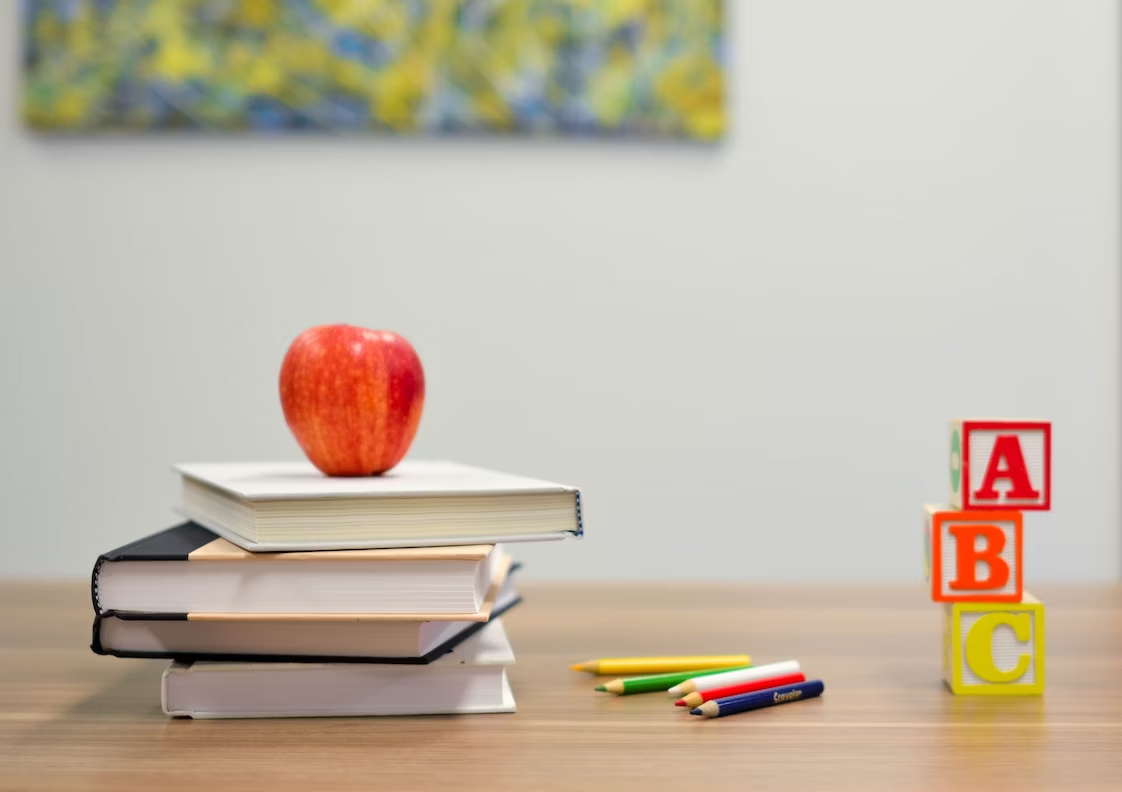 Education trends in 2023
The pace of change necessitates life-long learning to ensure a better adaptation to the fast-changing world of today. New technologies are reshaping the education industry, innovating the way we teach and learn. Accelerated by the pandemic, the digital transformation and the evolution of learning design and delivery modes continue to shape the education industry. VCs continue to invest in edtech start-ups because educators, students, and administrators have become more comfortable with education technology during the pandemic.
Above all, advanced technologies are considered an important trend, with the opportunities and challenges of AI. These innovations include virtual assistants for learner/teacher support, personalized learning experiences, computer vision systems to monitor students' attention, etc. Additionally, VR and AR technologies found application in the education to experience history, to train for healthcare, or to perform difficult and dangerous tasks in critical environments. Furthermore, recent advancements in generative AI can reshape research, writing, and individual program areas.
All in all, education institutions are aiming to not only adapt, but to leverage the power of advanced technologies to deliver greater value in a variety of areas from student experience to faculty work process.
French edtech start-up ecosystem
The overview of edtech ecosystem is based on the data on 639 French start-ups sourced from the Skopai platform. The selected companies have their headquarters in France, innovate in education and e-learning sectors and employ less than 500 employees. Data were collected from publicly available sources using data science and AI algorithms.
Click on the link to see the full list of start-ups:
Markets and technologies
According to the word cloud, representing the importance of tags, the dominant technologies of French edtech start-ups are digital, platform, application, VR, AI, video, AR, and robotics, among others. Start-ups develop innovations for various markets, including educational institutions (edtech), companies (hrtech, worktech, jobtech), healthcare (healthtech, wellness, medtech), cultural and sport organizations (sport tech, culture, art tech), security, etc. To note, a start-up can have several tags.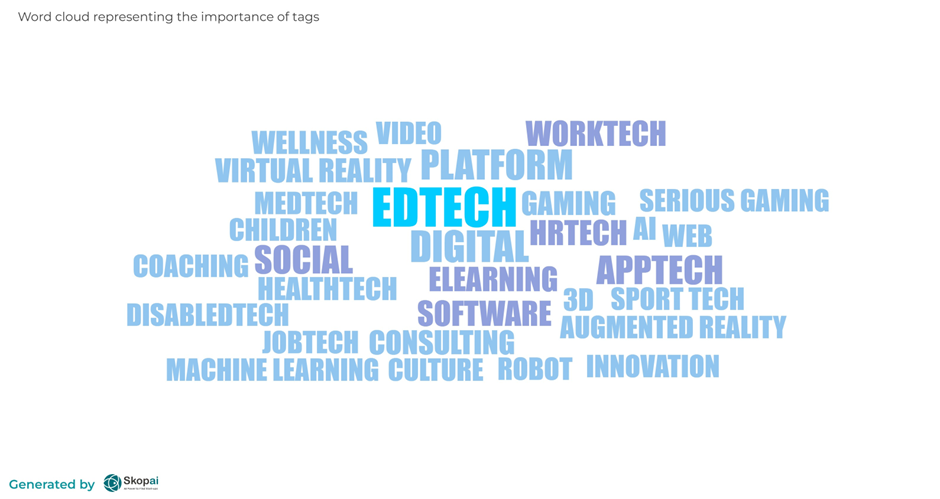 According to the data, 34 start-ups have patents. The graph shows the number of patents filed by different categories of start-ups. Most of the patented edtech start-ups provide solutions relative to community, digital technologies, platform, and technologies for workplace, among others.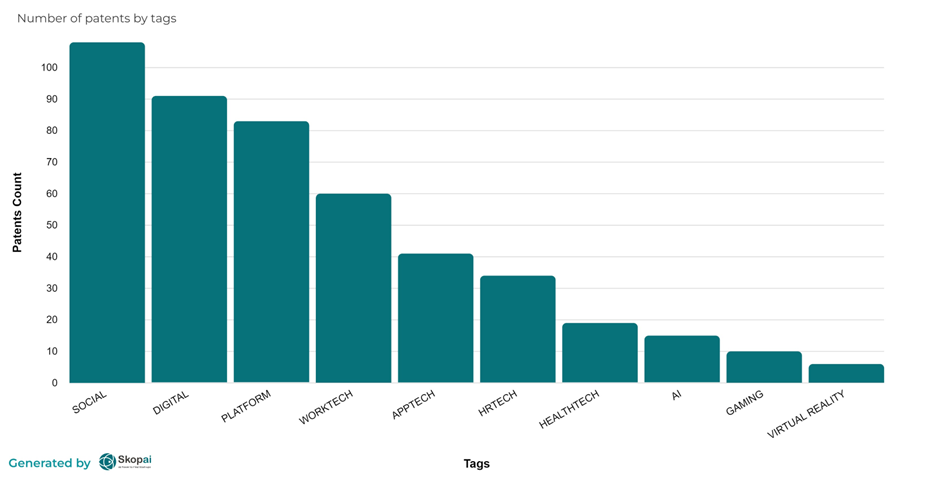 Maturity stage
By their maturity, most start-ups are on the go-to-market stage (62%). They have defined their markets and search for the first customers. 22% of start-ups are in their early stage, focusing on product development and searching for initial funding. Mature companies, achieving their execution agenda, represent 16% of the sample.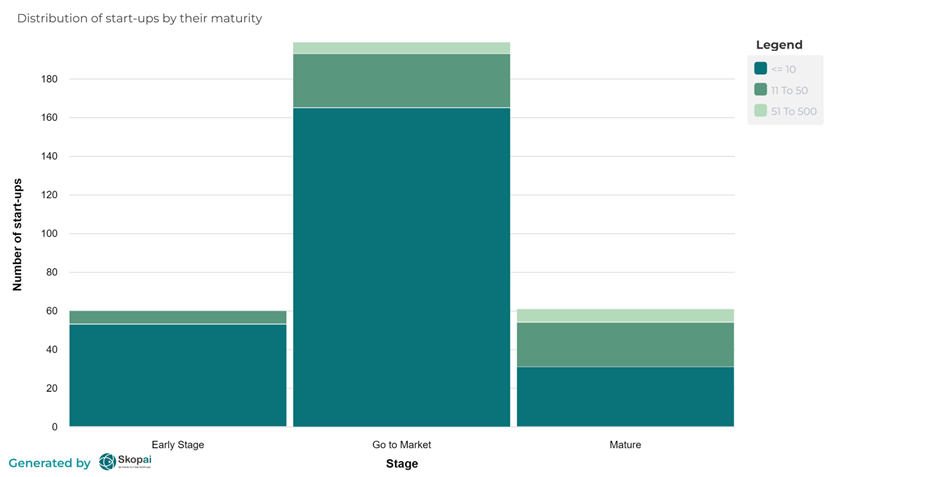 Recent fundraising

In July 2023, Oreegami raised €4 million from iXO Private Equity to train future digital marketing talents. This fundraising will allow the company to continue its deployment with the opening of offices in different cities in France and to develop new formats and educational tools.

In June 2023, Revoltrain, specialized in  training for digital professions, raised €3 million from Bpifrance, Kima Ventures and business angels. The start-up intends to use these funds to accelerate its growth, expand its activities internationally and strengthen its virtual student campus.

In May 2023, Edflex, an e-learning content platform provider, raised $13 million in Series B funding. The round was led by Educapital, with participation from Wille Finance, Maif Avenir and Arkéa Capital, and a business angel. The start-up intends to use the funds to expand its content library and partnerships, strengthen its technology, and increase its global presence.

In April 2023, Santé Académie raised €12 million to train health professionals continuously. Investors include MAIF Avenir, Digital Venture from Bpifrance, the fund operated by Serena et Makesense, Racine2, and Sofiouest. The funding will enable the training of 2 million workers across 3000 health facilities to ensure they stay up-to-date with the latest advancements.

In April 2023, Hupso, that trains for the jobs of tomorrow, raised €7 million from Educapital and Evolem. The funds obtained aim to accelerate the development of the activity and improve the learning platform with the objective of doubling the number of learners in 2023.

In March 2023, MentorShow raised €15 million for its online training and skills development platform. The investment was led by Educapital and Crédit Mutuel Innovation. Business angels and existing investors, including Left Lane Capital and All Iron Ventures, also participated. The start-up intends to launch new types of training, multiply partnerships with world-renowned mentors and accelerate its international expansion.

In March 2023, Lunii, which specializes in audio fiction designed for the cognitive development of children, raised €10.8 million from Arjo, BNP Paribas Development, Educapital and UHM (Unique Heritage Media ), which led the round. The funding should allow the company to continue to structure itself.
Access the full analytics of French edtech start-up ecosystem here: