A chilling Tech November
The year is winding down and so is fundraising. The tech scene in November in a nutshell took us by surprise with the infamous Twitter lay-offs which set an onslaught of massive tech layoffs. Major tech companies like Meta, Amazon, Salesforce, Cisco followed suit announcing a downsizing as well. After a pandemic-era boom for tech in 2021 which saw a massive hiring across tech companies, the current development was the least expected. As recorded by TrueUp's tech layoff tracker, there were 1138 rounds of layoffs at tech companies through mid-November affecting 185,602 people.
A chilling tech November indeed! Would these new developments affect fundraising in the coming months? Most likely.
Fundraising events have decreased this Month. 325 start-ups received funding in November as compared to the 362 that received funding in October.
This report is made according to data collected and analysed from the Skopai platform.
To see the full list of start-ups that received funding this November, click on the link:
The word cloud represents the markets and technologies of start-ups that received funding in this month. Tags such as Software and Platform appear dominant giving us insight into which markets saw a lot of activities.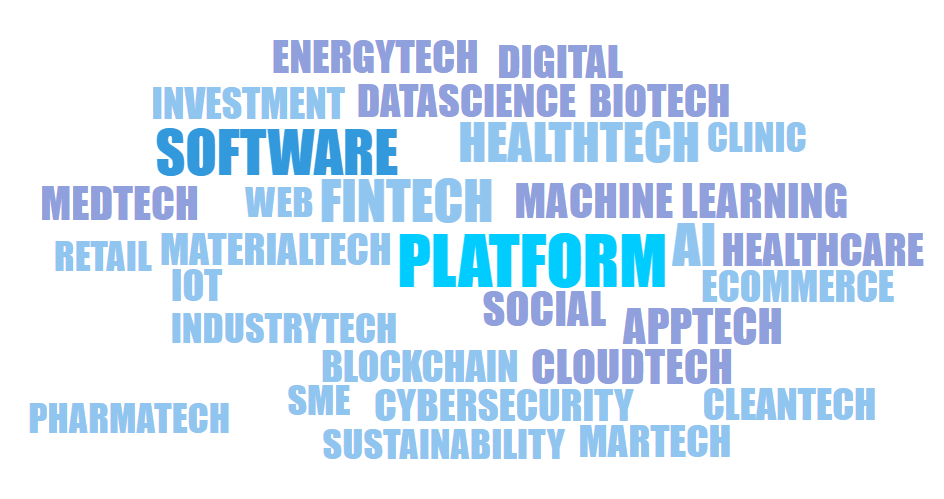 According to the distribution of start-ups according to their country of headquarter, the US is the country with the most start-ups followed by UK, France, Germany, Canada, India, Spain, Israel, Netherlands and Finland.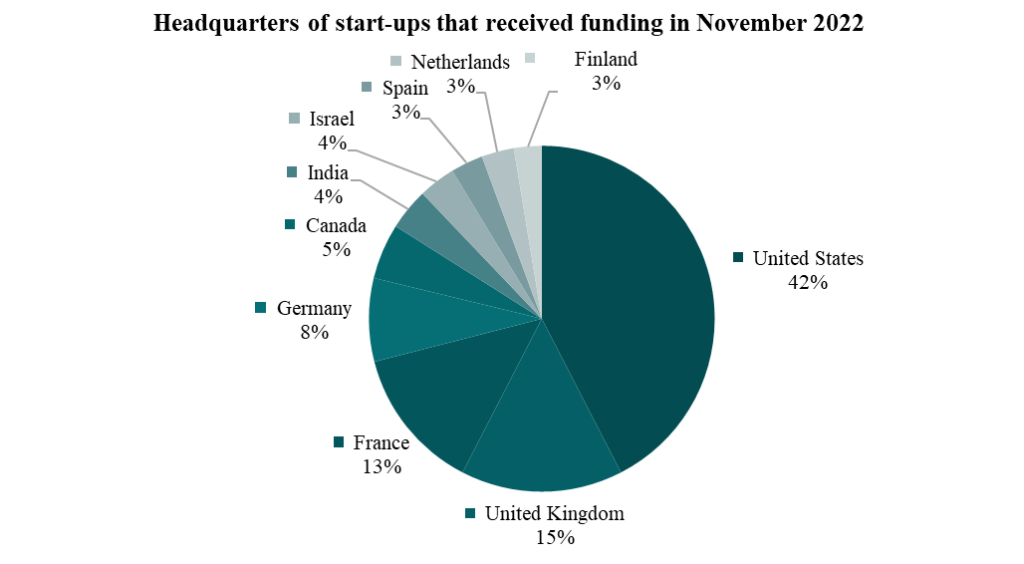 By their maturity, most start-ups are on the go-to-market stage, followed by early-stage ventures. The go-to-market stage is an an attractive stage for investors since the product is ready for commercialization after the research and development process. Furthermore, 100 funded start-ups have patents.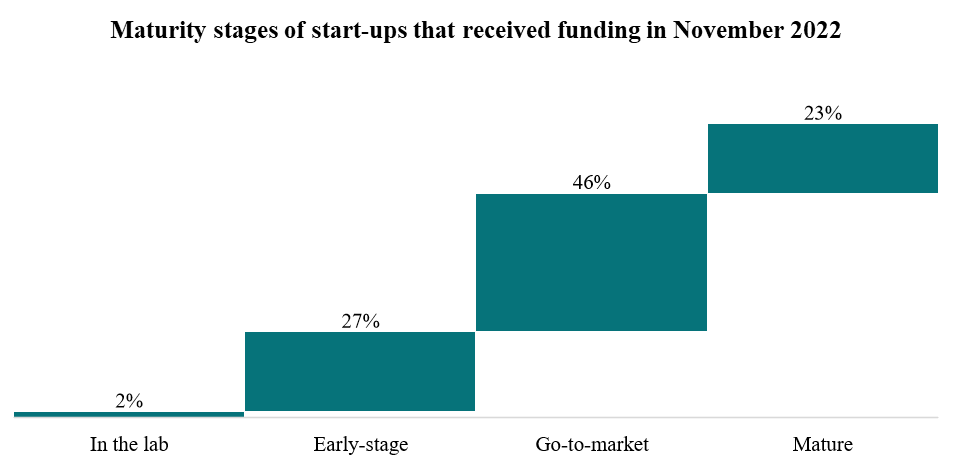 Funding rounds in November 2022
Per data analysed on the Skopai platform, start-ups received funding across different funding rounds ranging from Pre-seed to Series E rounds.

📌 Note that all amounts are quoted in Euros on the Skopai platform for comparison reasons.
Pre seed
Job protocol: The British start-up founded this year is a provider of a decentralised employee recruitment platform designed to allow companies to recruit faster and cheaper than traditional recruiters. It raised an amount of €1.5M in a Pre-Seed round and intends to use the funds to accelerate growth and expand operations.
Slide: Develops a social selling platform that enables customers to order products via their social networks or online and have them delivered directly to their home through a dedicated application. The Saudi – Arabian start-up raised €1.76M in a Pre-Seed round and intends to use the new funding to accelerate its regional expansion.
Seed round
Constellr: Is a German start-up that develops technologies designed for monitoring the temperatures of our planet in high spatial resolution. It raised €10.05M in a Seed round and will use this capital to map the world's crops by means of developing its first two satellites, wrap up its existing pilot programs, and flesh out its processing platform.
Foodetective: The Swiss start-up develops a mobile application that allows users to discover, book, order, and pay in restaurants directly at home or at their workplace. It also helps restaurants manage and automate their entire tools, operations, marketing, and suppliers from a single interface.
It intends to use the seed of €5.53M to further develop its technology and IT team.
Series A
Galileo: Is a US-based Machine learning start-up that raised €18.1M in a Series A round. They intend to use the funds to continue to grow its engineering and go-to-market teams and to expand its platform to support new data modalities like Computer Vision.
Rewst: The Florida based start-up Rewst develops Robotic Process Automation (RPA) software designed for automating repetitive tasks in organizations. Having secured €21.61M in a Series A funding round, the fresh capital will support Rewst's rapid growth and the continued buildout of their Robotic Operations Center (ROC) and product development.
Series B
Agriconomie: The French start-up develops an e-commerce platform allowing farmers and local distributors to buy and sell products (fertilizer, seeds, phytosanitary products, etc.). It raised €60M in a Series B round and intends to use the funds to cement its presence in France, Germany, Italy, Spain, and Belgium.
Agrolend: Is a Brazilian start-up that provides credit for Brazilian farmers with an easy, digital and bureaucracy-free process. It raised €27.14M in a Series B funding round which will enable the company to target an increase in its loan book.

Series C
Dropit: The British start-up develops a retail optimization platform for brands to effortlessly maximize sales & distribution capacity. It secured an investment of €25.13M in a Series C round and intends to use the funds to bolster its go-to-market capabilities.
Xanadu: Develops hardware (photonic chips) and open-source software for photonic quantum computing. The Canadian start-up closed €100.53M in a Series C round and will use the funds to Accelerate the Development of Fault-tolerant Quantum Computers.
Series D
Astera Labs: Develops purpose-built data and memory connectivity solutions that remove performance bottlenecks throughout the data center. The Santa Clara, CA-based company raised €150.8M in a Series D round and intends to use the fresh funds to expand operations and its business reach, with new research and development centers in Toronto and Vancouver, Canada.
Emalex Biosciences: Is a US based start-up that develops treatments for central nervous system movement disorders and fluency disorders. Having raised €251.33M in a Series D round, it intends to use the capital to fund a Phase 3 clinical trial and potential commercialization of a new class of drug for patients with Tourette Syndrome.
Series E
Maven: Develops a platform designed for providing end-to-end coverage for all paths to parenthood. The US based company raised €90.48M in a Series E funding round and wants to use the fund to continue to deliver on its mission; meeting the diverse needs of women and families around the world.
To see the full list of start-ups that received funding this November, click on the link:
***
Make more analysis using the events view tab to keep up with the funding activities of your favourite start-ups on the Skopai platform. You can also book a demo with our experts now to discover the Skopai platform.