Robotics is the future they say, well we agree too! The impact of medical robots cannot be overemphasized. Medical robotic startups is quickly becoming one of the most competitive and lucrative markets around and there are many reasons why it is so.   
They have transformed and improved the quality of health care; leading to better diagnostics, safer and less-invasive surgery, shorter waiting times, reduced infection rates, taking over monotonous work and many more.
Its market is projected to reach US$24 Billion by 2027, growing at a CAGR of 17.9% over the analysis period 2020-2027. (Businesswire, 2021)
Offers secure investment opportunities for the future as medical robotics helps accomplish surgical procedures faster and more precisely.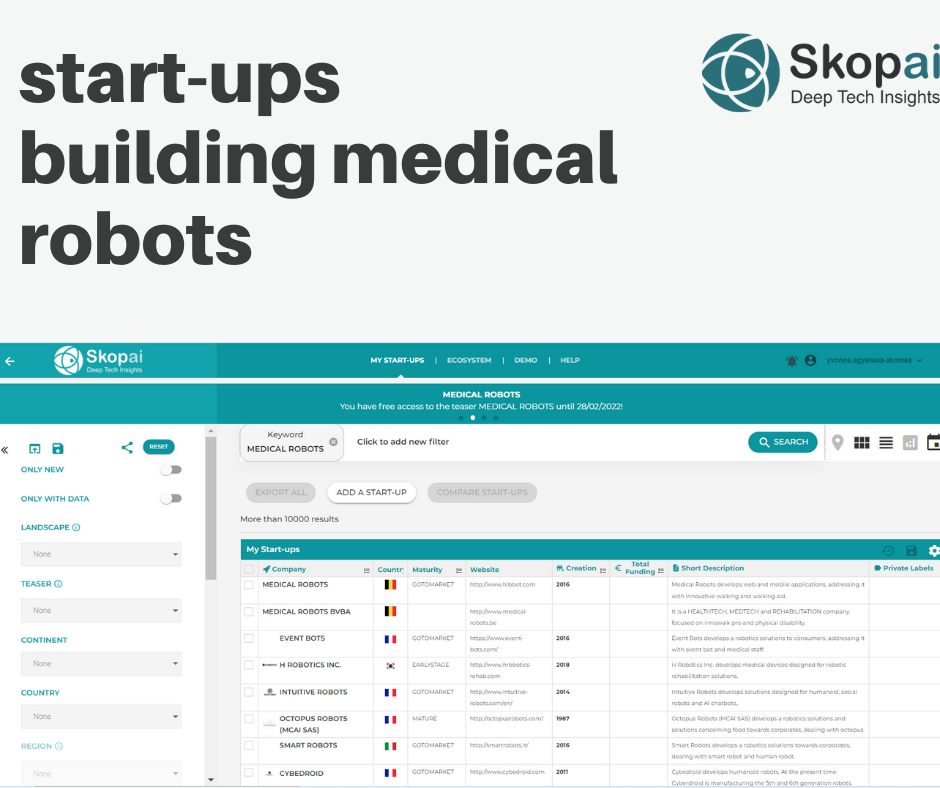 Here are 5 (five) start-ups with Robotic solutions worth looking at for investment
Robocath manuafactures robotic support arm
Robocath is a scale-up located in France. It develops robotic solutions designed to improve the treatment of vascular diseases and help physicians during interventional cardiology operations by allowing them to remotely control their instruments thanks to a robotic support arm. Total funding amount €54.47M.
Mynutia advances Robotic Assistance for Eye Surgery
Mynutia is a Belge start-up at the Go to market stage. It develops robotic devices designed for enabling eye surgeons to operate over ten times more precise than is currently possible in clinical practice.
AURA Innovative robotics manufactures Robotic Exoskeletons
AURA Innovative robotics is a Spanish start-up founded in 2016 at the Go to market stage developing medical robotic solutions designed for smart diagnostic and rehabilitation. Its products;
Oscann is a diagnosing platform for neurological and mental disorders in children and adults based in the analysis of ocular movements and
Orte a robotic exoskeleton for the human upper-limb providing valuable assistance in the diagnostic and rehabilitation processes of patients suffering shoulder injuries.
Simulated surgical systems develops simulations for robot assisted surgery
Simulated surgical systems is an American start-up which develops simulation solutions designed for robot-assisted surgery to help train novice and experienced surgeons, thereby reducing surgical error and making robot-assisted surgery possible.
BIOXTREME develops robotics systems to assist in patient rehabilitation
Bioxtreme is an Isreali start-up that develops robotics systems to assist in patient rehabilitation from strokes, traumatic brain injuries, and other neurological disorders based on biofeedback and 3D virtual reality. The system uses precise measurements of muscle strength, range of motion, and other clinical scales to calculate and apply forces with high accuracy across the entire motion cycle. Its ambition is to save 50% on the rehabilitation treatment time.
Discover many more of these start-ups on the Skopai platform by just a keyword search and get a 360° analysis of them. Get to know about their solutions and how best they can fit into your R&D solutions and match your criteria.
Schedule a Demo and get a walk through of the skopai platform and also have access to our POC (Proof of Concept) package for new users. With this package, you have access to our platform for one month. We offer you a personalized landscape, a Deep Tech Insight and access to 3 users. The best way to discover the features of our platform and all its advantages. Don't wait any longer and request a demo now!
Catch a glimpse of the POC video here
Reference
The Worldwide Medical Robots Industry is Expected to Reach $24 Billion by 2027 (2021). Retrieved from The Worldwide Medical Robots Industry is Expected to Reach $24 Billion by 2027 – ResearchAndMarkets.com | Business Wire