Start-up investments 
Growth in start-up investment over the last three years has been exponential. Although shocking, considering the economic crisis suffered due to the Covid-19 pandemic, start-up investments soared. In fact, 2021 hit an all-time high for start-up investments worldwide. Based on the analysis of 8,688 start-ups that were founded between 2019 and 2022, 2021 was a record year for early-stage investment having raised a total sum of €11.78B.
Over the course of the pandemic, there was a rapid response by companies to quickly adopt disruptive technologies into their business models to ensure continuity of their markets and services. This shift brought about a boom in new tech start-ups and the rush for venture capital and other forms of investments.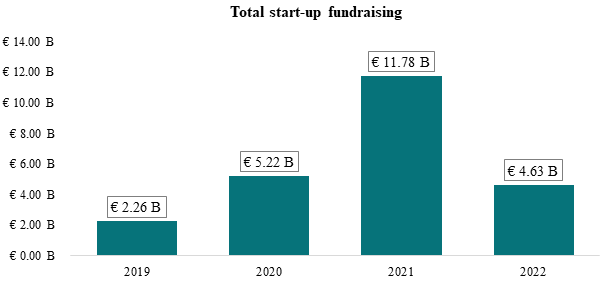 Source: Skopai data on 8,688 start-ups founded between 2019 and 2022.
Why are CVC deals increasing? 
Corporate venture capital (CVC) backed deals have increased over the past decade. CVC volume grew at a 7% annual rate between 2017 and 2020. Currently, CVC accounts for about a quarter of all VC investments.
Companies in an attempt to be innovative and stay ahead of trends have started opening their innovation funnels to allow external knowledge and skills inflow by partnering with start-ups through incubator programmes, open innovation, and corporate venture capital.
New markets have emerged with recent technologies such as AI, blockchain, robotics, 3D printing and many others, developing innovative solutions that companies want to tap into.
Companies are getting their first pick of promising start-ups to incorporate into their innovation strategies to lead them into the future. This has set a wave of trends to look out for in CVC investment.
Trends defining CVC investments 
Tech-based investments
Most start-ups founded in recent times are tech-based. The global tech scene is expanding more than ever, and corporate institutions are gunning for innovation using tech to bring new products and services that have a great market positioning. Healthtech, Fintech, Agritech, Assurtech, Edtech, Biotech, to name a few. Sectors like Healthtech and Fintech saw the most funding in recent years. 2021 was the biggest year for digital Healthtech investments and revenue growth.
Just in January alone, 5 start-ups became unicorns in France which is unprecedented. PayFit France (€254M), Ankorstore (€250M), Qonto (€486M), Exotec (€293M) and Spendesk (€100M) all together raised a sum of €1.3B to attain the unicorn status.
This trend isn't going to end soon as more traditional sectors like retail and tourism have seen start-ups revolutionizing them with technology.
Artificial intelligence
Experts widely consider artificial intelligence (AI) as the key technology ushering us into the 4th industrial revolution. AI has become the core of new tech solutions as the world has gone digital. With new market opportunities, CVCs are investing in AI start-ups to provide smart solutions and transform their businesses to adapt to the times. They're eager to secure their fair share of investment in AI companies.
Portfolio diversification
With connectivity and smart technologies becoming global, CVCs are not afraid to diversify their portfolio elsewhere out of their geographical location. Giant companies like Microsoft, Google, Coinbase, and L'Oréal are known for investing heavily in start-ups in different geographical locations and in different innovative solutions.
Global players like these have expanded their businesses worldwide by investing in local start-ups to develop solutions specific to the demographic.
Digital Analytics
Moving away from traditional data sources like financial statements for decision making, the emergence of business intelligence platforms has provided more accurate, real-time data on companies to help investors make data-driven decisions. CVCs and VCs can now use a tool to find start-ups and discover up to date information about them based on different metrics like business model, technology, funding, media footprint etc.
On platforms such as Skopai, CVCs can easily identify start-ups that match their corporation's innovation goals and investment thesis. They can use the tool to make selections and comparisons with similar start-ups using the different metrics available to help them make accurate investment decisions.
With Skopai, get to know the start-ups that interest you! Thanks to our AI program that searches, and structures information delivered by a simple tool, you will be able to identify start-ups and get a 360° overview of them. We enable you to discover promising start-ups for your investment projects.
Book a demo with our experts now to discover the Skopai platform.